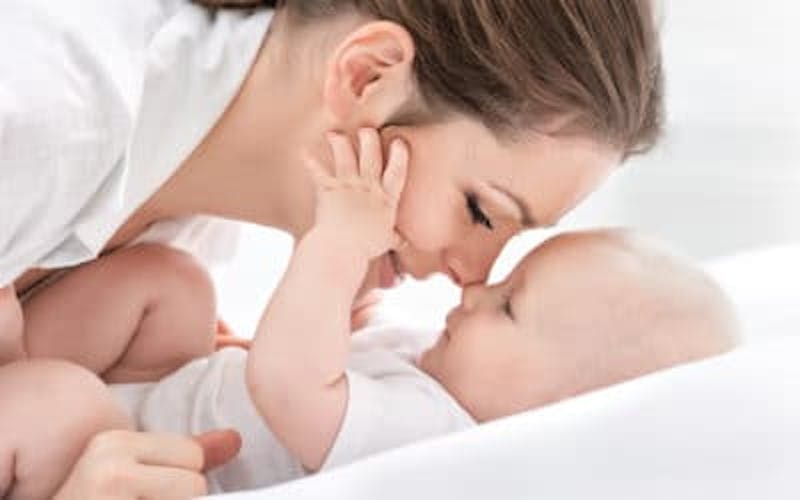 Without a doubt, childbirth is a life-changing experience for us women – and our bodies.
The joy and wonder of a new baby can sometimes be offset by the fact that your body doesn't look or feel as youthful as it did before pregnancy – stretch marks and sagging skin in the abdomen and breasts are things most mommies struggle with.
Maybe you have tried that juice diet that all the celebrities are talking about, or maybe you've been squeezing in as many sit-ups between breastfeeding as you possibly can. None of it is working, and you are starting to feel that only a miracle can get your pre-baby silhouette back.
And you're not alone!
Many mommy's feel the same way and lots of them have found the perfect solution: The Mommy Makeover!
The Mommy Makeover procedure is an absolute favorite amongst our clients – thanks to its incredible versatility and transformative results, you are now able to get back to that youthful figure you thought you would never have again. With a Mommy Makeover tailored just for you, Dr. Lisa Learn will not only restore your breasts and abdomen, but also boost your confidence and self-esteem.
Indeed, a post-pregnancy makeover can do wonders to help you look and feel like yourself again. Keep reading to find out how this procedure works and if it's the right choice for you.
Psst. Here's a little secret from Dr. Lisa Learn: Yes – it is called a "mommy makeover," but that doesn't mean you have to be a mommy. This procedure is great for all women looking to restore their body shape. So if you have excess skin from losing weight, or if age has started to change your body in unpleasant ways, a "mommy makeover" may be just what you need, too.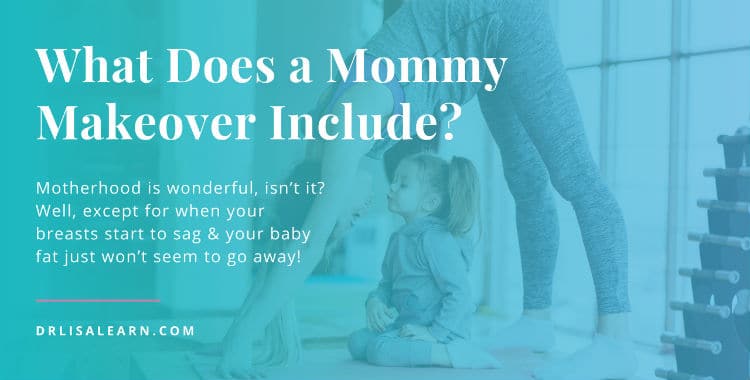 What Exactly Is a Mommy Makeover?
Our Mommy Makeover is a combination of procedures that are performed in a single surgery to address multiple areas of the body at once. Typically, this entails a breast augmentation and a tummy tuck, but this plan can be adjusted and customized in order to address your specific needs, though the goal remains the same – to reverse unwanted changes caused by pregnancy and breastfeeding.
As a woman and expert surgeon, Dr. Lean understands that pregnancy affects every mommy differently. And that is why, when you come in for a consultation, she will listen to your needs and concerns before putting together a plan tailored to achieve your unique goals – whether you are a new mommy or many years past childbearing, she can help you determine which restorative procedure is right for you and your body.
The procedures you can combine include:
Not quite sure what these options entail? Well, let's talk about it a bit.
Boost Your Breasts – Boost Your Confidence
After childbirth and breastfeeding, the breasts tend to deflate and change in both size and shape. A breast augmentation or breast lift – or even a combination of both – can help restore youthful and perky breasts, as well as confidence in your body and femininity.
Breast augmentation. If your breasts have gotten smaller but haven't sagged all that much, a breast augmentation alone may be enough to address your concerns. In cases of minor sagging, breast implants can help adjust the shape and fill out the breasts for a more pleasing appearance.
Breast reduction. If your breasts have become so large that they are uncomfortable and hard to keep in control, you can opt for a breast reduction instead. This procedure will remove excess fat and tissue to help you get back to a more comfortable and manageable size.
Breast lift. If your breasts have sagged significantly, you will likely need a breast lift to bring them back up to their natural position. This procedure can be combined with a breast augmentation, or it can be performed alone if you are happy with the size of your breasts and simply want to correct droopiness, low nipple position, or enlarged areolas.
But what about your tummy? Well, you can do something about that, too!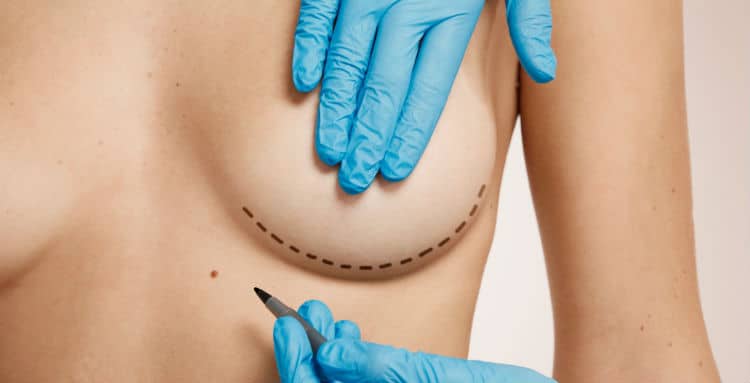 Get Rid of That Baby Fat
During pregnancy, the muscles in your abdomen will stretch in order to make room for your baby to grow. And, oftentimes, exercising may not be enough to tighten them back up (that is, of course, if you even find any time to exercise). In some cases, mommies may struggle with separation of these muscles – a condition known as diastasis recti that contributes to a stomach "pooch" after pregnancy.
Tummy Tuck. This procedure will repair any stretched or separated abdominal muscles. A tummy tuck also removes excess fat and loose, hanging skin. A tummy tuck is a safe and effective procedure that tightens the abdominal muscles and eliminates excess skin and fat for a flatter, more attractive stomach area.
Thisis an effective way of removing excess fat from the stomach and other areas that seem unresponsive to diet and exercise. Liposuction alone is an option if the abdominal muscles have retained sufficient tightness and the only problem is minor areas of excess fat. However, liposuction is often combined with a tummy tuck to refine the contour of the body.
Though the breast and stomach areas tend to be most affected by pregnancy and childbirth, you may also be interested in addressing other areas of your body. Dr. Lisa Learn can discuss with you different treatment options available, including a vaginal rejuvenation and a thigh lift (though these procedures are not necessarily included in our Mommy Makeover package).
Get Your Confidence Back Today!
So if you are struggling to regain the body you had before childbirth and breastfeeding, please don't hesitate to contact the best mommy makeover surgeon in Fort Lauderdale – Dr. Lisa Learn. Whatever procedures you ultimately choose, it's important to have a clear idea of your goals. And, together, we can get that done!
To schedule a consultation, just call our Fort Lauderdale office at (954) 380-8411. Or simply fill out our handy request form online and one of our staff members will contact you to confirm your appointment.