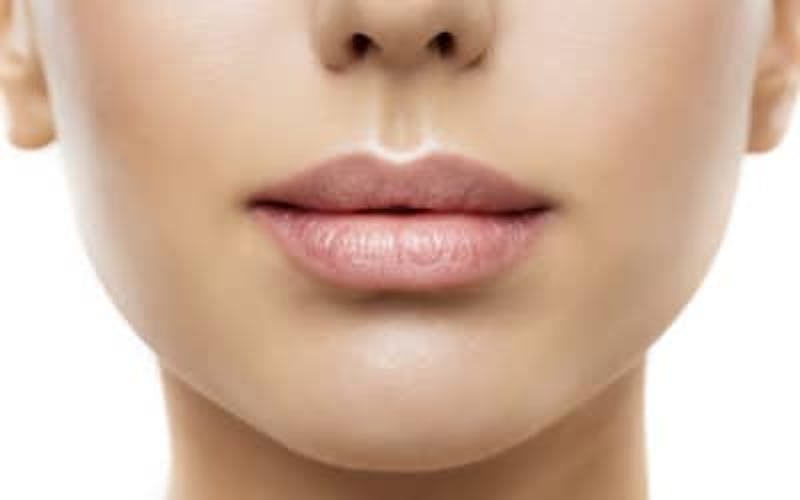 Has a lifetime of laughter with family and friends left its mark with deep lines and creases around your mouth?
Are your lips not quite as full as they used to be?
Do you wish you could have some of the "old you" back in your smile?
Well, have you considered putting your money where your mouth is … literally?
You see, sooner or later, the effects of aging come for us all. Loss of collagen production, declining muscle mass, decades of sunlight exposure … you get the idea.
And one of the first places most people begin to notice these effects of aging—or at least begin to be bothered or frustrated by them—is in the face and around the mouth.
Your face is what you show the world every day, so drooping jaws, thin lips, deep wrinkles and other flaws around the mouth can be accompanied by a real sense of sadness.
But if you're yearning to regain some of that youthful appearance in and around your lips and mouth, it's important to know you have many options!
That is, you don't have to just talk about doing something to improve the appearance of your lower face. You can put your money where your mouth is, literally, and seek a consultation with Dr. Lisa Learn!
At our Fort Lauderdale office, we can help you …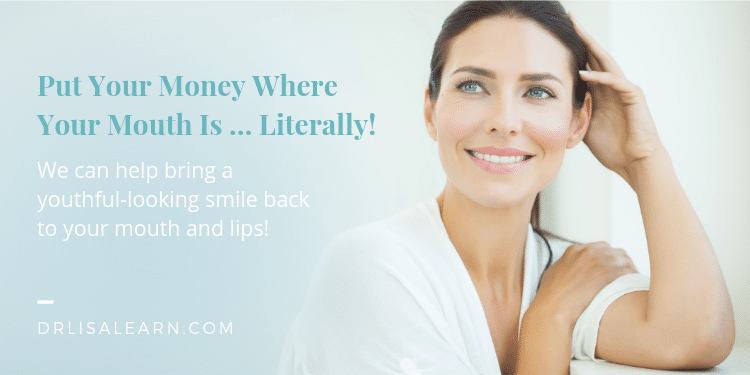 Kiss Your Thin Lips Goodbye
Lips get thinner and thinner over time—starting in about the mid-30s—because your body gradually loses the ability to replenish collagen at the same rate. This causes skin to lose some of its structure, and lips to lose their plump shape—and UV exposure from sunlight only accelerates this loss.
But this doesn't mean you've lost your full, sensuous lips for good! There are a few ways we can help you restore that glamorous volume, either temporarily or more permanently.
Probably the most common and popular is the use of dermal fillers, such as Juvéderm. This a gel-like material that contains hyaluronic acid, which is a volumizing substance found naturally in your body—so the likelihood of rejection or complication is very low.
And that's not the only benefit.
Number one, the results are almost instant.
Number two, dermal fillers can last up to a year, and typically a minimum of at least six months, depending on your age, lifestyle, and body chemistry.
And number three, side effects are generally very minimal. There may be some residual swelling lasting for a few days (or sometimes only a few hours), but most people experience no downtime and can return to normal activities right away.
"Lighten" Your Load with Laser Skin Resurfacing or Tightening
That same slowdown in collagen production that leads to thinner lips can also accelerate the development of sagging skin, fine line, wrinkles, and other blemishes around your mouth and lips.
But thanks to advances in medical laser technology, we now have quick, non-invasive and minimally invasive options to reduce the appearance of many of these kinds of blemishes.
Laser resurfacing is a 30-minute procedure that allows us to target fine lines, scars, discoloration, and other minor skin imperfections with a burst of light energy.
The laser gently vaporizes the outermost layers of skin while heating and stimulating the lower layers of the dermis, which triggers cell growth and collagen production. This then helps "resurface" the outer layers of your skin with fuller, healthier looking tissue.
For more dramatic results, you might consider laser skin tightening instead. This is a computer-controlled laser system that is minimally invasive, and uses five pairs of needles to distribute temperature-controlled RF energy to the lower layers of skin, stimulating production of collagen, elastin, and hyaluronic acid.
That's a mouthful, but here's what it really comes down to: skin that's tighter, more elastic, and contoured to a more youthful appearance.
It's more invasive that simple resurfacing, but it also goes a lot further to reduce the appearance of more significant conditions—not just fine lines and wrinkles, but jowls, double chins, sagging skin, and other problems.
Brighten Your Day with Botox
Botox is one of the most popular services available at our office, and is a great option for those looking to smooth wrinkles and enhance the volume and appearance of wrinkled skin around the mouth and lips—particularly smile lines, marionette lines around the corners of the mouth, and vertical lines on the upper lip.
The treatment works by injecting a small amount of a chemical agent into specific areas of skin. Once there, the Botox blocks neurotransmitters responsible for the movement of specific groups of small muscles.
Those muscles then become temporarily immobilized, which softens and smooths the appearance of wrinkles and creases.
The procedure is really quick—often just a few minutes in our office—and works fast, with optimal results arriving within just a couple of days.
Better yet, the smoother and more youthful appearance of your mouth and lips may last for up to a year.

Give Yourself a Lift
For the most significant instances of sagging, lax skin, jowls, and creases, the best option may be a surgical procedure—for example, a lower facelift.
With cosmetic surgery, we can tighten and reposition facial muscles, remove excess fat or skin, and sculpt and contour the appearance of your lower face to a much greater degree than with injections or fillers.
Areas we can target include your jawline, chin, cheeks, neck, and the areas around your upper and lower lips. Lower facelifts are often combined with other procedures, such as a neck lift or facial liposuction, to further help you restore that youthful appearance.
During your consultation, we'll talk to you about what you'd like done, what your goals are, and give you a clear set of expectations going forward. It's a big decision—we want you to be sure it's what you want, and be ready and prepared to meet the new you!
So Is It Time to Put Your Money Where Your Mouth Is?
From fillers to lasers to surgery, Dr. Learn has a ton of options at her disposal to give you back that youthful smile! To schedule a consultation with us in Fort Lauderdale, please give us a call at (954) 380-8411 today.