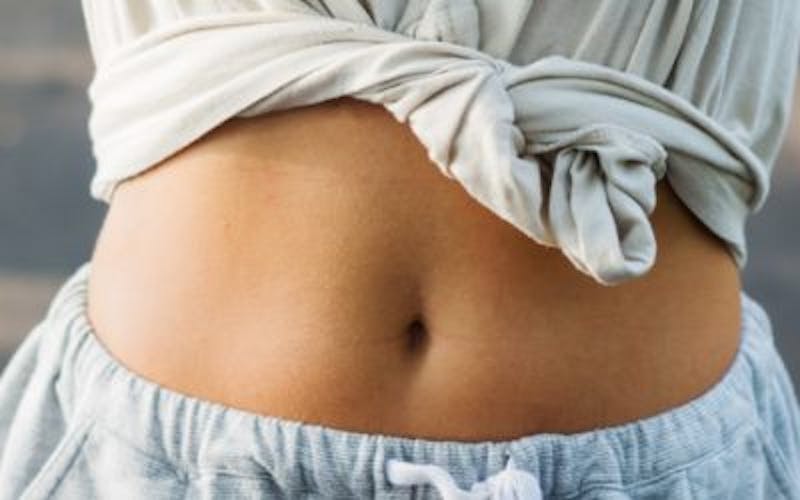 Sick of seeing loose, sagging, flabby skin around your midsection despite all your attempts to slim down and shape up?
You are definitely not alone.
For many people, regaining a taut, contoured tummy after weight loss or pregnancy just doesn't seem to be something that they're able to achieve on their own. You might be eating right, exercising, and completely healthy—and still that stubborn "pooch" around your belly just won't budge.
We know how frustrating it can be. But there's another answer you might consider: a tummy tuck!
What Is a Tummy Tuck?
Tummy tucks are among the most popular cosmetic surgeries we perform.
During the procedure, an incision is made under the tummy – just above the pubic area, where it would typically be hidden by clothing (including bathing suits). Excess skin and fat from the area between the incision and the belly button are removed, and abdominal muscles are tightened to flatten the abdominal wall and bring in the waistline.
Often, although not always, some liposuction will be performed in specific areas to enhance the overall contouring of your abdomen and achieve your ideal results.
Benefits of the Procedure
The primary cosmetic benefits of a tummy tuck include a flatter, more contoured abdomen; fitting (and looking) better in clothes, as well as the potential elimination of some stretch marks (those located below the belly button). Ultimately, it's about helping you regain your confidence and an abdominal shape that you aren't able to achieve through healthy living alone.
There are also some surprising health benefits of tummy tucks that are unrelated to aesthetics, including:
Easier weight maintenance. Research suggests that people who have had a tummy tuck find it easier to maintain a stable, healthy weight. There could be many reasons for this, including improved abdominal strength, increased exercise tolerance, and increased motivation to exercise.
Improved posture. A tummy tuck removes excess skin and flab and also strengthens your core, which can improve posture and flexibility, and even potentially reduce lower back pain.
Minimizes other health risks. In particular, tummy tucks have been shown to reduce the symptoms of stress urinary incontinence (SUI) as well as the risk of hernias, due to having tighter and stronger abdominal muscles.
Why Consider a Tummy Tuck?
As with any cosmetic procedure, a tummy tuck isn't for everyone. There are several considerations that must be made first before deciding to go forward.
The items below can help you work through those considerations on your own, but if you still aren't sure, please don't hesitate to give us a call! Dr. Learn would be happy to discuss your options with you and help you decide whether to go forward with a tummy tuck, a different procedure, or no procedure.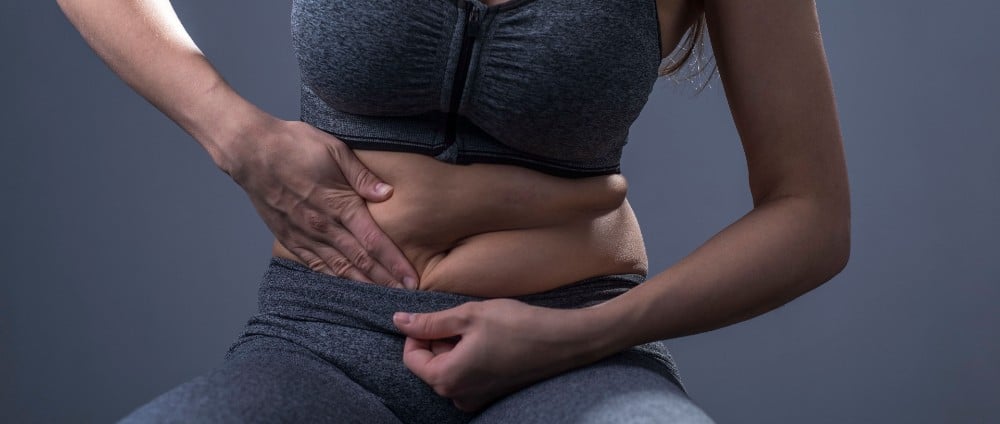 You're Doing "All the Right Things," But the Belly Still Won't Bulge
If you're looking to build a healthier, slimmer, better-contoured body, your first resort should always be diet and exercise.
However, if you've been pregnant in the past or have gone through periods of significant weight gain or loss in your life, diet and exercise may not be sufficient. Try as you might, the skin and abdominal muscles just won't tighten, and a tummy tuck is the best (or only) way to get the shape you want back again.
You're Already at or Near Your Ideal Weight (and Have Been for a While)
Although tummy tucks do remove some excess fat and skin and are often combined with a bit of liposuction, you should not consider your tummy tuck to be a "weight loss" procedure.
Most people do not lose a significant amount of weight as a result of their tummy tuck. More importantly, significant weight gain or loss following the tummy tuck can effectively undo the benefits of the procedure and may mean you need a revision.
In general, you should not consider a tummy tuck unless you are within 20 pounds of your goal weight and intend to remain there for the foreseeable future. For this reason, it's often wise to wait until you've held a relatively stable weight for at least 6 months.
You Aren't Planning on Having More Kids
For the same reasons as above, pregnancy can (and likely will) re-stretch surgically tightened muscles and undo the benefits of a tummy tuck, putting you back in the same situation as before.
To be clear, getting pregnant after a tummy tuck does not pose any medical risks to you or the baby. So if you change your mind in a couple of years (it happens sometimes!), that's okay. But it does mean that you will likely need another tummy tuck afterward to regain your ideal belly contouring.
You're Okay with Some Visible Scarring
It's important to understand that tummy tucks require fairly extensive incisions and that some residual visible scarring will almost certainly be present.
Of course, we do everything we can to mitigate the effects. This includes using advanced surgical techniques to minimize scarring and promote healing of the skin, as well as placing the incision under the "bikini line" so it doesn't show unless you are fully unclothed.
You're Able to Take Some Time Off
Tummy tucks, in general, do require you to take some time off from work or away from strenuous physical activities (including caring for small children). How long you'll need to take can vary significantly depending on your health, the extensiveness of your surgery, and your work and family responsibilities. More on this below.
What to Expect After a Tummy Tuck
In the first few days to a week, you will typically be spending most of your time resting. You'll likely have drainage tubes in for a couple of days as well, and activities like bending, lifting, or even standing for prolonged periods will be difficult. Pain, bruising, and some swelling are normal. Generally speaking, in those first few days, you should really only be getting up for short periods to go to the bathroom or grab a snack.
As the healing process goes along, Dr. Learn will be checking in with you at established follow-up appointments and gradually approving incremental increases in inactivity.
Most people are able to return to work in about 2 weeks; however, this may be longer (particularly if you work a more physically demanding job) or sometimes shorter (if you work from home). In general, it takes about 6 weeks before you can start performing more strenuous activities again.
During the first several weeks following a tummy tuck, you will likely have an "abdominal support garment" to wear to help control swelling and promote healing. Detailed instruction on when and how often to use it, as well as how to care for your incision site, will be provided to you prior to your surgery. Don't be afraid to call us anytime if you have questions!
Let's Talk Tummy Tuck
If, after reading this blog, you're interested in having a conversation with Dr. Lisa Learn about a tummy tuck procedure, we'd love to hear from you! Our consultations are no pressure and no obligation—just a conversation about you and your goals, and what options you have to reach them.
To request a consultation, give our office in Fort Lauderdale a call at (954) 380-8411, or request one online. We offer both in-office and virtual consults!