They say beauty is only skin deep, and we agree! Being kind, being honest, being loyal and spreading happiness wherever you go is something you should always aim for – and it's what makes you truly amazing.
But when youth begins to fade, and what's on the outside doesn't really match how you feel inside, you may start looking for other ways to represent your beauty – and that's OK! We can't be young forever (though we wish we could), and with age comes sagging, wrinkly, blemished skin.
That's just life.
Everyone will eventually start seeing their bodies change, and this is especially true when it comes to the face. Despite all the peels, the facials and the high-end creams, your face can still show signs of aging with wrinkles and fine lines over time. And even if you feel like a vibrant 20-year-old, your face may be telling a different story.
At this point in life, many of us often resort to plastic surgery to restore a more youthful appearance. This usually comes in the form of facelifts. But with all the advancements in medical technologies, you can achieve the results you are looking for without having to "go under the knife"!
Here at our Fort Lauderdale office, we offer plenty of non-surgical options, like laser skin tightening and laser skin resurfacing. You may have heard of these procedures after doing some research on skin rejuvenation (maybe that's how you even landed on this page!), and are now wondering: "What's the difference between the two?"
This is something many of our patients ask. So, let's dive a little deeper into the key aspects that set these procedures apart and how you can determine which is best for you.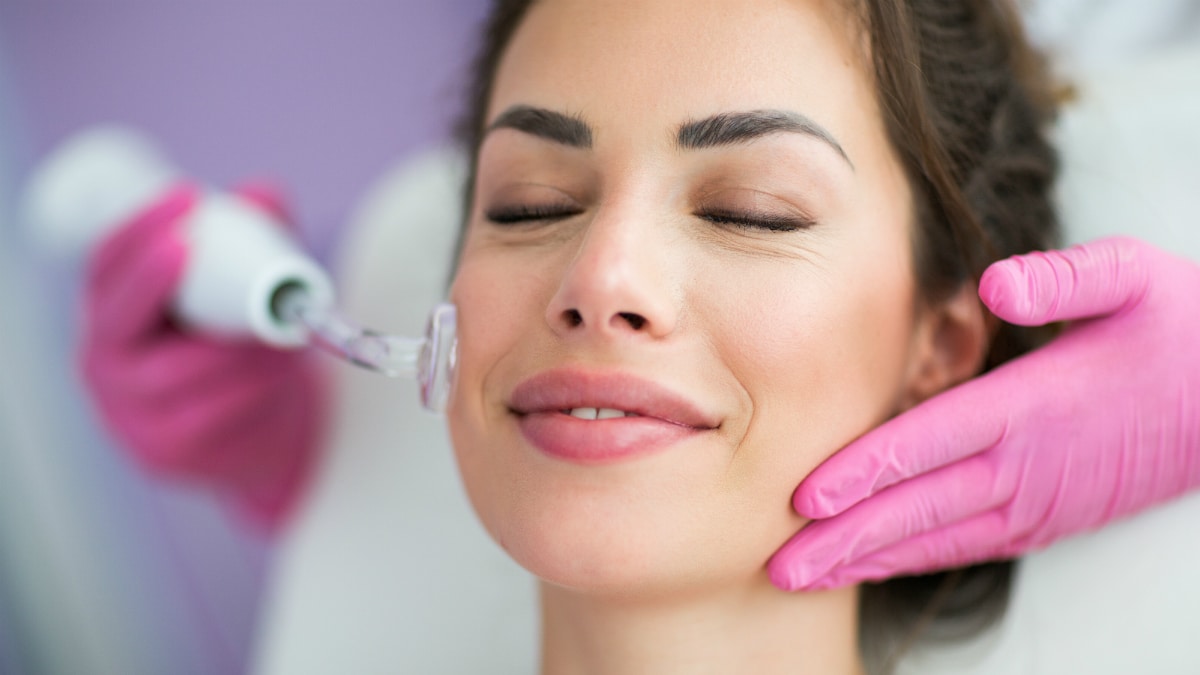 Tighten Up Your Look
As you may have already guessed, laser skin tightening is used to, well, tighten the skin. This happens by heating the area being treated with an infrared light source. Doing so will cause the muscles to contract, eliminating wrinkles, fine lines, and sagging skin.
What does treatment look like?
During a treatment session, you will feel fast pulses from the laser beam on your skin. Patients often report tiny prickling sensations, and while this may be slightly uncomfortable, the procedure is still relatively pain-free and you will immediately feel normal again once the treatment session is finished.
Even better:
Once your laser skin tightening treatment is complete, you will be able to notice results right away! Your skin will be smoother and look more youthful – no more wrinkles or fine lines!
Keep in mind that while results can be seen almost immediately after your initial treatment, you will most likely need to come in for a few more sessions spread over a period of time to guarantee the best possible results. Usually, we recommend around six treatments in total over a three-week period, and the end results will last about two years (with occasional touch-ups here and there).
What are the benefits of laser skin tightening?
Laser skin tightening has become more and more popular over the years. Why? Here are some reasons:
It requires no downtime for recovery. There's no need to worry about taking time off work or having a face full of bandages like you might have if you underwent surgery.
Results are quick and efficient. After your initial treatment, you will be able to see results right away, making this treatment very popular for those who want immediate results instead of waiting around to heal or for pricey creams to finally kick in.
It can be used on other parts of the body, too! Yes, your face can definitely from this type of treatment, but if you are looking to smooth out other parts of your body that have become wrinkled, laser skin tightening can help there as well.
What about side effects?
While laser skin tightening is extremely safe, there can be some common side effects right after the treatment. This may include some redness and swelling, but the good news is these symptoms will go away within a few days (if they even happen at all). Bruising can also occur along with skin sensitivity.

Resurface Your Inner Beauty
Now, laser skin resurfacing is a procedure used to diminish the appearance of blemishes (uneven pigmentation, acne scars, wrinkles, fine lines, etc.) on the skin's surface by dissolving the molecular bonds of the damaged skin cells one layer at a time. Its anti-aging benefits and gentle skin peeling processes help give skin a more uniform appearance.
What does treatment look like?
Using a precise and controlled beam of laser light, the outer layers of skin are vaporized, revealing the smoother, younger-looking skin beneath. And while the old layers of skin are removed, the growth of new skin cells is stimulated. For patient comfort, a local anesthesia is usually administered (a numbing injection at the treatment site).
Laser skin resurfacing can be done in one treatment (which takes about 2 hours), or in sessions (which range anywhere from 30 to 45 minutes).
Since this type of procedure is somewhat more intense than laser skin tightening, patient recovery may extend throughout multiple weeks after treatment has been completed. The exact amount of time will depend on several factors, including the amount of damage and the size of the area being treated. But the overall results tend to be even more dramatic than those experienced with laser skin tightening treatments.
What are the benefits of laser skin resurfacing?
Undergoing a laser skin resurfacing procedure can greatly benefit the youthfulness and beauty of your skin. Here is why:
It targets much more than just fine lines and wrinkles. Laser skin resurfacing can also diminish the appearance of acne scarring, age spots, birthmarks, and blotchy patches on the skin. It can also improve the skin's overall texture.
It can stimulate the production of new collagen in the lower dermis. You can think of this as "turning back the hands of time"!
What about side effects?
Side effects associated with this type of treatment are usually relatively minor and should fade away in a short time. These may include redness of the skin, swelling of the treated area, and moderate irritation similar to the feeling produced by a mild sunburn (itching and stinging).
Get Back the Skin You Love
So, now that you know the major differences between these rejuvenating procedures, don't wait to get back the skin you love! We know you may still have many questions, so feel free to peruse our website, call our office at (954) 380-8411 to schedule an appointment, or fill out our contact form online to have one of our staff members reach out to you. We will be happy to steer you in the right direction!