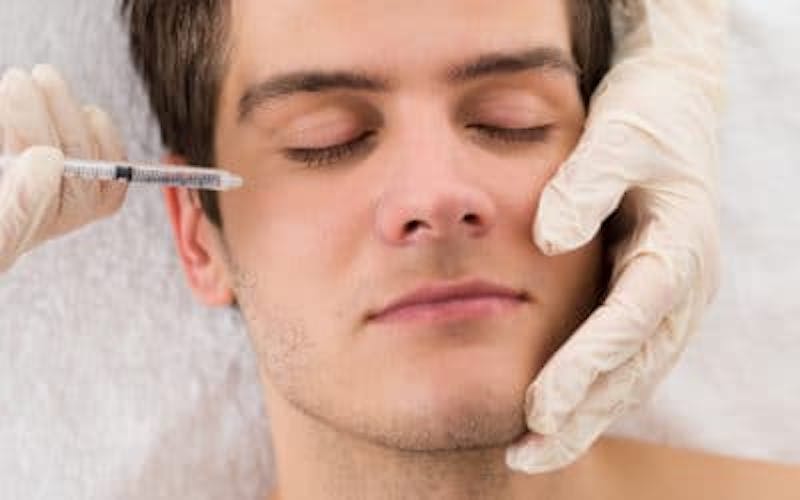 Hey, guys! Yeah, you!
We've seen you hitting the gym every week. We've even spotted some of you getting pampered at the salon. And that's great! We totally support your journey toward self-improvement and maintaining a youthful appearance.
But have you considered anti-aging remedies yet? Maybe you should! Botox treatment can help you beat the clock and soften lines, wrinkles, and furrows in no time.
Now, you might be thinking: Isn't Botox a woman thing?
Nope. In fact, Botox is among the most popular cosmetic procedures used by men today. Just like their female counterparts, men also want to feel confident and youthful. You may have tried a few facial creams to get rid of crow's feet, but maybe you aren't really seeing the results they promised. Or maybe you have developed a permanent frown line that makes you look slightly "tougher" than you really are.
Well, Botox can help you address all these concerns so that you can keep being the best version of yourself, both at work and in your social life.
How? We're glad you asked!

Botox for Men – How Does It Work?
Botox is made from a safe, purified protein that has been used for many years to treat a variety of medical conditions – from neck spasms to excessive sweating to, well, reducing the appearance of facial wrinkles.
During treatment, small amounts of Botox are injected with a fine needle, affecting the neurotransmitters at the injection site and "freezing" some of the small muscles in that area responsible for creating wrinkles that come about from frowning and squinting.
The end result? A more relaxed, refreshed, younger looking appearance – and a happier you.
You should keep in mind, however, that you may have some tenderness or swelling in the treatment area following your visit. This is normal and will quickly subside, and within just 3-7 days, results will be visible.
And since not all great things last forever, the effects of Botox will eventually start wearing off. This usually happens about 3-4 months after treatment. But no worries! All you have to do is come back to our Fort Lauderdale office for a "maintenance."
Something else to take into consideration is the fact that men have more muscle mass and different hair patterns, so men react differently to Botox injections than women do. Which takes us to our next point.
Botox for Women Vs. Botox for Men – What's the Difference?
No, we're not saying that the results will be different. Both men and women will experience the same effects: fewer wrinkles, fewer fine lines. But the approach may differ in some ways in order to achieve the same goal.
Here are some of these major differences:
Men may need more Botox than women.Men have much more muscle mass in their foreheads and brows than women do, so it usually requires a larger amount of product to achieve a perfect amount of relaxation.
Men's ideal brow shape is different than that of women. While women's brows will usually have a gentle arch that sits a few centimeters above the brow bone, men's brows usually don't have much of an arch and sits just slightly above the bone. Because of this, men require a more precise technique.
Men have different hair patterns than women.Usually men have much higher hairlines than women. This is especially true when it comes to men who have shaved heads. Sometimes it's necessary to extend the Botox up onto the scalp for the most natural results depending on the hair style.
Worried that you may need to extend your Botox injections into your scalp? Don't sweat it – and there's a plus for doing so: It will slow the rate of hair loss in younger men who are going bald! You see, though Botox is known for getting rid of wrinkles, this treatment has many other benefits too.
Let's discuss this a bit further.

Other Benefits of Botox – What Else Can It Do for You?
Aside from giving men a smoother looking forehead and brow, Botox can produce many other health benefits. For instance, the procedure has been found to help people who suffer from chronic headaches and migraines. While it doesn't stop the migraine itself, Botox can help reduce symptoms such as nausea and sensitivity to light.
But that's not all – Botox can also help keep excessive sweating at bay and offers relief in cases of incontinence, muscle stiffness and twitching, and enlarged prostate.
Other benefits of Botox include:
It's virtually painless
It's cost effective
There's no need for commitment (you don't have to keep doing it!)
It will prevent new wrinkles from forming
It will prevent wrinkles from becoming worse
With all that being said, you may be wondering if Botox is safe. (Good question.)
Botox injections may present some minor side effects like headaches, fevers, chills, swelling, pain or bruising at the injection site. Most of these side effects will disappear within a few days, however (if you even experience them at all – which is unlikely). In case of severe or prolonged symptoms, make sure you seek medical attention right away.
Are You Tough Enough for Botox?
If you are concerned about lines and wrinkles on your face and neck making you look older than your years, or if you are experiencing hollowness around the eyes, cheeks or temples due to an intense workout routine, or if the elements and aging have left you with a weathered look, Dr. Lisa Learn can help.
Simply give our Fort Lauderdale office a call at (954) 380-8411 to schedule a consultation today. Or, if you prefer to connect with us online, fill out our contact request form to have one of our staff members reach out to you.