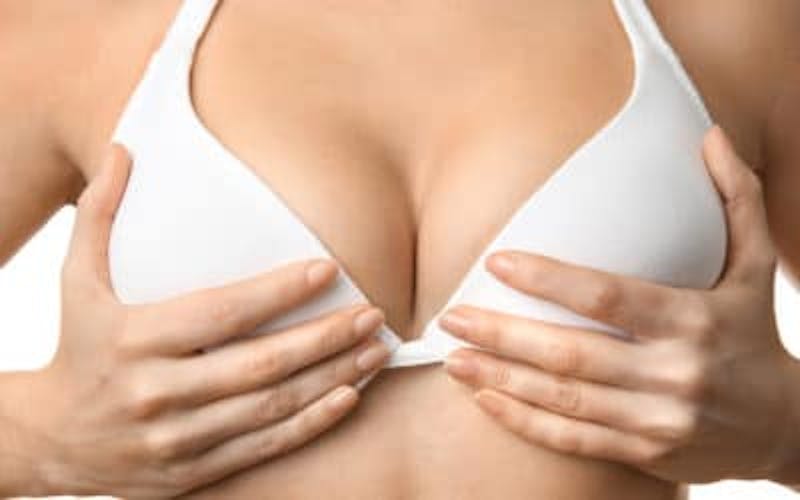 Gravity has a lot of good things going for it. It keeps us on this planet, for one. It also keeps liquids in our glasses (until we tip them, at least).
But gravity can also be responsible for breasts that sag over time. This can become an uncomfortable situation, both physically and emotionally. In addition to lower-hanging breasts, your areolas can become stretched over time, your nipples can point downward, and the effects on your self-image and self-confidence can be distressing.
Well, Maybe We're a Little Too Hard on Gravity
To say that gravity is solely responsible for sagging breasts isn't exactly true. Gravity can certainly contribute, but there's a number of factors at play when it comes to breasts drooping over time:
Let's get the best-known reason out of the way first. Breasts have no muscles to retain firmness. What structural support you have is a connective tissue known as "Cooper's ligaments." Over time, this tissue loses elasticity much the same as many other parts of our bodies. They start to stretch and the shape of the breasts starts to change.
Changes in weight. This includes both "standard" weight and pregnancy weight. The more fluctuations a woman has, the more likely her breasts will end up shifting. Breastfeeding, however, does not have an impact on the shape of one's breasts over time.
Lack of support during activities. If age and weight fluctuations aren't enough to stretch your Cooper's ligaments over time, unsupported motion from running, sports, and other activities can as well. Without a proper-fitting sports bra, breasts can be forced to move in many directions during exercise: horizontally, vertically, and in a figure-8 type of route.
Smoking will destroy the elastic properties of your body over time, and that includes your breasts as well.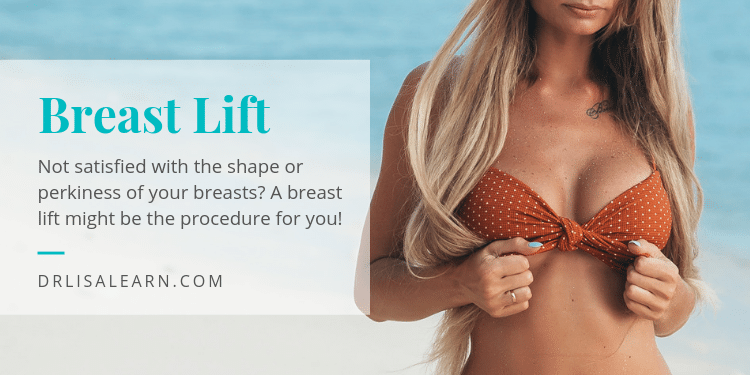 Am I A Good Candidate for a Breast Lift?
A breast lift procedure can be a sound choice for anyone who wishes to restore the shape of their breasts as well as the positions of their nipples and areolae. It can also be a beneficial procedure if one breast currently falls lower than the other.
However, not everyone is a prime candidate for a breast lift since there are many factors to consider.
If you anticipate a large change in body weight in the near future, either via plans to lose weight or a pregnancy, it is best to leave the breast lift until after those changes have completed. You don't want to go through the procedure only to have another change potentially interfere with the results.
A desire to breastfeed should also be mentioned when considering a breast lift. While, in most cases, the procedure will not interfere with a mother's ability to lactate, it might cause some women difficulties in producing enough milk.
What Can I Expect from a Breast Lift Procedure?
Breast lift surgery often takes around 2 hours, and it is performed under general anesthesia.
Tissues are tightened around the breasts and excess skin is removed to give each breast a more lifted appearance. Additional tissue reshaping may be performed to further adjust the shape and contours of the breasts. If the areolae are not in satisfying positions, they will also be moved and potentially reduced by removing excess tissue from their perimeters.
It is common for sagging breasts to be accompanied by a loss in volume, so we might also agree to perform a breast augmentation as well. All incisions for both a breast lift and a breast augmentation will be made as inconspicuously as possible.
Full recovery from a breast lift may take about 6 weeks, although some patients may need more or less time. The breasts will be swollen and bruised for about the first 14 days, and you will be prescribed pain medication (if necessary). This will most likely be needed for the first several days after the procedure.
You might also experience numbness in your breast tissue, nipples, or areolae. This may last for up to 6 weeks, but sensitivity gradually returns in the vast majority of cases.
Although the discomfort will decrease, you must still take precautions within the first few days to a week after the surgery. You may be required to wear a special, supportive bra during the first portion of recovery, as well as keep your breasts out of direct sunlight.
You must also avoid heavy lifting for 4-6 weeks, and sexual activity for at least 1-2 weeks. Other activities will also be limited, and Dr. Learn can best advise you on how to make gradual returns to them.
While you will notice immediate results from the procedure, the shape of your breasts will slowly continue to change as the swelling goes down and your breasts settle. It is important to note that women with smaller breasts will see the best results over time, as those with larger breasts will still have gravity affecting their chests more over time. Although, if we could create an anti-gravity field around your breasts, we certainly would!
Would You Like a Lift?
A breast lift, like any other surgery, is not something to go into without the proper considerations. But, if you have the need and the right qualifications, the procedure can make a very real difference to your image, comfort, and self-confidence.
The best way to learn more about your options is via a consultation with Dr. Learn. We will be happy to set one up with you! Call our Fort Lauderdale office at (954) 380-8411 or fill out our online contact form to get started.