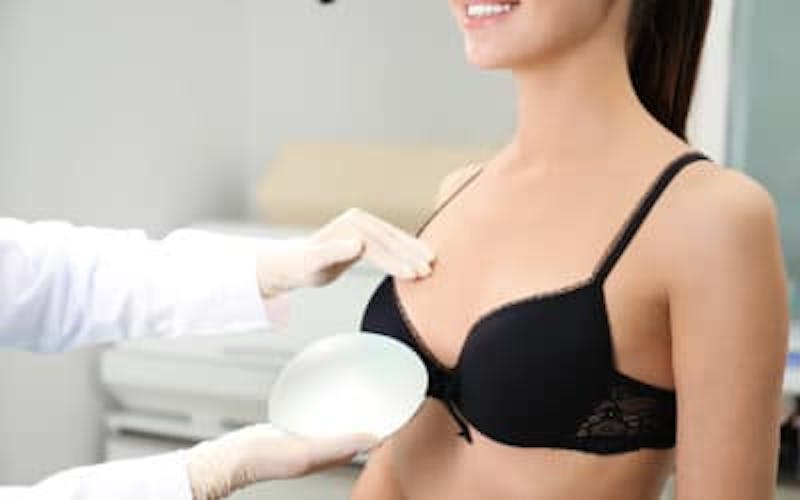 Now that you have made the decision to get a breast augmentation, you may be wondering if the procedure will leave a noticeable scar. This is a common concern for many of our patients.
We get it! After all, scarring can easily diminish the youthful, natural appearance you are looking for, defeating the purpose of getting breast implants in the first place.
And for the past few decades, even the best plastic surgeons were using techniques that left significant scarring. Back then, incisions for breast implants were made in the most accessible, direct location, often at the front-center of the breast. You may have even seen these results after researching on breast surgeries.
We won't lie: surgeons are not magicians, and it's impossible to completely eliminate all scarring after a procedure. Fortunately, as surgical techniques continue to evolve, we are now able to get the results patients want to see – without ugly, obviously visible scarring!
Let's discuss this a little further.

How Modern Procedures Have Reduced Scarring
The "trick" is to make smaller and more inconspicuous incisions. How do we get this done? By meticulously handling the skin and soft tissues, and making incisions in natural lines along the patient's unique anatomy to make them much less visible. And just like that, surgeons are now able to perform life-changing procedures without putting a damper in a patient's decision to get a breast augmentation.
In most cases, where the surgery is done and how the incision is made is usually what it comes down to. You should keep in mind that with most – if not all – surgical procedures there will be scarring, but the good news is we can hide them in places where they won't easily be seen.
One way of doing this is by making the incisions underneath the breast, at the fold near the rib cage. This allows the breast itself to cover the scar and makes the incision site virtually invisible.
Another similar process is the trans-auxiliary breast augmentation, which uses incisions made near the armpit in the folds of skin, allowing the scars to remain hidden.
There is also a surgical technique called peri-areolar breast augmentation. During this procedure, a small incision is made around the lower edge of the areola. This technique is great for patients who have a pronounced difference between the tone of their areola and skin.
What about how the incision is made?
Well, surgeons are now able to also make smaller incisions which, in turn, reduces the appearance of scars, too! Using saline implants is one such example. These implants are made from a hollow silicone outer shell which is placed inside the breast during surgery. Once the shell is in place, the implant is then filled with a saline solution. And since the silicone shell is filled after it has been inserted into the breast, incisions are made much smaller.
But Will the Scars Ever Fade?
As you recover from your breast augmentation surgery, you should keep in mind that scars can take up to 18 months to fully heal. You may even notice that your scars seem to be getting worse before they begin to look better.
This is no cause for concern, however. In fact, most scars will appear red or pink and slightly raised until they begin to heal. Over time they will become less noticeable, though the rate at which your scars will heal will also depend on factors like your age, your genetics, your skin tone and the amount of sun exposure.
Of course, there are things you can do to help minimize the appearance of scarring. That takes us to our next point.

How to Minimize Scarring
Though you can expect to experience some scarring, the visibility of your scars is absolutely something you have a bit of control over. In fact, there are lots of things you can do before and after your procedure to help accelerate healing and minimize the appearance of scars.
Here a few things to keep in mind:
Stop smoking for several weeks before and after your breast augmentation
Avoid sun exposure (and wear sunscreen whenever you do go out on the sun)
Take vitamin E supplements or apply topical vitamin E to healed incisions
Eat healthy, nutritious foods and drink plenty of water as you recover
Follow your plastic surgeon's recovery instructions to a T
If you carefully follow these instructions, you will definitely improve your recovery experience and reduce potential scarring. Dr. Lisa Learn will thoroughly discuss what to expect from your breast augmentation procedure and what recovery will entail.
Now, if you do end up developing more pronounced scars, there are also a number of treatment options you can try. Laser skin resurfacing is actually a great option for patients looking to reduce scarring even further, and we provide this awesome treatment right here at our office, too!
So if you have any questions, or would like to schedule an appointment at our Fort Lauderdale office, please give us a call at (954) 380-8411 today. You can also reach out to us electronically by filling out our request form online and a member of our staff will het in touch with to you.